The Jordan 1 Spades Cards Inspired Kicks are Dropping with a Sister Pair
A Popcorn Air Force and some Curry Dunks were more than enough to light the bulb above our sneaker heads. We're positive now that Nike will probably release a shoe inspired by every single piece of shit around us. And we ain't gonna lie fam, we love them for that. The Swoosh already thanked our good old TV with the dope No Signal TV Dunks, so what shit is the Swoosh cookin' up for us this time? With two years of Covid and all, our best bud, other than food, was probably some entertainment. And perhaps the idea of these next Jordan 1 Spades turned up due to these tough days.
Air Jordan 1 Spades: Queen of the Season
This Jordan 1 Spades is landing in a low version that features a clean White leather base. Cool paisley prints are debossed into the toe overlays and the mid panels in two shades of lovely red color. Metallic Gold covers the branding on the tongues, the Swooshes, and the embroidered letters "K" and "Q" onto the lateral heels. You gotta nod to them King and Queen, fam. To complete the theme of the card, MJ's wings motif is printed at the rear in a fiery red hue. And finally, a White midsole lands on top of a Red rubber outsole of these Jordan 1 Spades to finalize the design.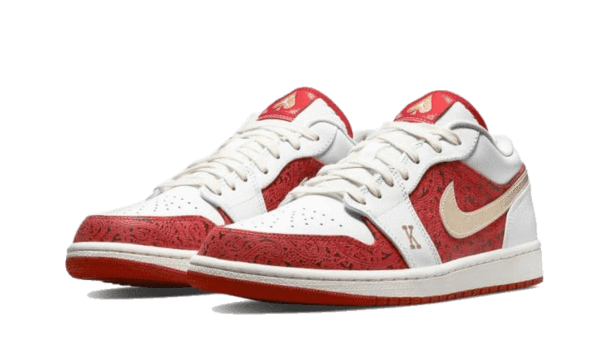 Now don't tell us you ain't an AJ1 fan. For real, no one isn't. Unless you lost your shitless mind then we can't blame you. But anywho, more happy tea, with another Spade-inspired pair, but this time it's an Air Force 1. Moving onto the next Card in the game, let's discuss this hot Nike Air Force 1. Shall we?
What's the Second Kick Inspired by them Spades?
This pair is going to be a Black leather-dressed babe, all over, including the laces. Just like the AJ1s, the uppers of this shoe will be covered with the same paisley pattern of the AJ1. Yup, very similar to the details on the back of your playing cards. Contrasting the dark black vibes of the shoe is a white midsole highlighted with a Red rubber outsole. Similar to its Jordan 1 Spades sister, Swooshes here are also painted in the same Gold shade. At the back, golden Swooshes meet at a golden heel tab with a black Nike Air branding. Another cool detail includes a Gold Spade graphic on the tongue tags. "K"/"Q" embroidery hit the lateral sides of this pair too.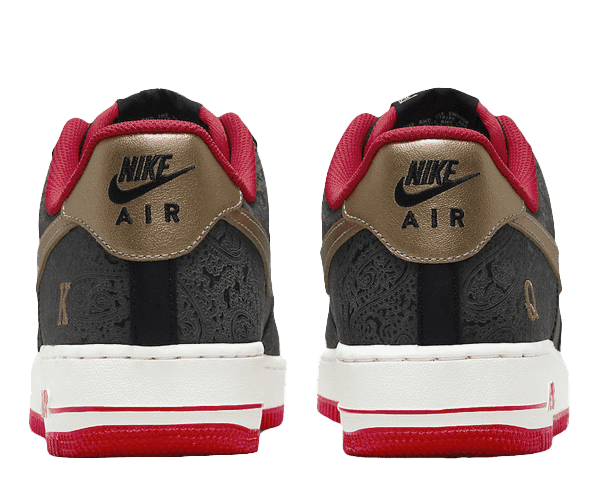 Release and Cop Deets
These two Spade kicks are set to release on May 27. The Jordan 1 Spades will drop with a $110 price tag, and the Nike Air Force 1 Low will go for $120.
This awesome new colorway is the best way to celebrate our King and Queen of Spades. They're probably the only faces you saw during the endless quarantines. We're not sure you're good at playing cards, but you better be good at flipping kicks. The Jordan 1 Spades is reselling for $214, and the Air Force for $339. If Spades never got you cash playing cards, they sure will if you're able to cop these two kick-ass pairs. If you succeed, TSB will dub you "sir sneakerhead". Each of the Jordan 1 Spades and the Nike Air Force 1 will get you pooping some fine profits. How? No need to mention that you must own the shittiest Nike bot out there. Your sneakerhead sure takes this for granted. But to poop loads of bucks, you only got one way, peeps: Copping in bulk.