Nike Strawberry Cough Dunks: Giving Us Red Eyes Since April
What's the shittiest thing that can happen to a sneakerhead? It's definitely getting all excited about kicks that don't end up dropping fam. If you're an SB Dunk veteran, then you know how cool the 4/20 Dunks are. From Skunks to Cheech and Chong, Nike was there doing their thing. And we about to check out the Nike Strawberry Cough Dunks again after lots o' disappointment! You know, better late than never. If you weren't keeping up, we covered these and more in our weekly shitpost!
Nike SB Dunk and 4/20: Making a Name Among Skaters!
If you're a diehard Dunk fan, then you definitely know the story. From college kicks to the hottest joints (pun intended) you can have on your feet, Dunks are it. However, we're gonna remember how the Nike SB division became relatable and skater faves! So in 2002, Nike kickstarted the SB division that caters for skaters specifically. But they needed something (or many things) to stay in everyone's memories! We got shit like the OG Supreme Dunks and so many more kicks.
But when 2004 hit, the smokers and skaters got THE sneakers! The Hemp collection dropped on 4/20/2004 of course to celebrate the day. The uppers are actually made of hemp material with three variations of the swoosh. They came in blue, green, and red! But fam, you should know that the green kicks were pretty dope and are the most popular. You'll have to pay $2K+ for a pair today. The red SBs are worth about $618, and the blues go for $855! These pairs can take some of the credit in putting SB Dunks on the skaters' and smokers' sneaker maps. You know, you tend to support a thing when it represents you!
And Now Finally, Nike Strawberry Cough Dunks!
We waited for that shit for a long time now. But let's make the connection clear for the unfamiliar with weed now. As interesting as it sounds, the strawberry cough is a strain of marijuana. It simply smells like strawberry and will make you cough. Explains the name, doesn't it? So Nike and Todd Bratrud joined forces again for some excellent shit. The Nike Strawberry Cough comes in a mix of green suede and red leather. The red part also has strawberry-like perforations! Our favorite bits? Hands down the coughing strawberry embroidery on the heels and the translucent soles.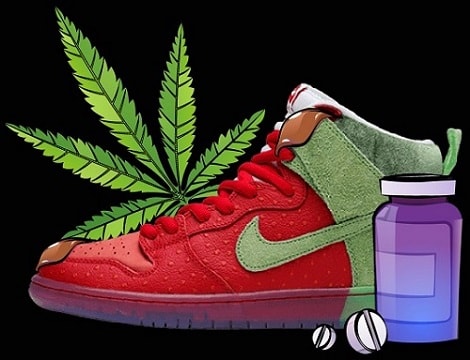 So, we all expected these hot kicks to drop on 4/20 of 2021, but they didn't. But we all got so many teasers and shit, so how can that be? Happily enough, rumors are back on track, with a release date this time! The kicks will drop at select skate shops on October 22, 2021. We ain't sure if the kicks will come to Nike SNKRS, but we'll update you if they do! And just in case you're wondering, the Nike Strawberry Cough Dunks are worth $1,374 on average. A pretty juicy number for a pair of kicks huh?
More 4/20 Inspired SB Dunks
You didn't really think that this is all we have to say today, did you? The kicks we mentioned so far aren't the only 4/20 kicks we had since 2004. That's why we're gonna list the coolest kicks we've had to celebrate the weed smokers of the world! Some were limited to a 420-pair run, some were a collab with artist and skateboarder Todd Bratrud. Some simply dropped on 4/20, and we're totally vibin' with them!
Nike SB Dunk Skunk 420
Drop Date: 4/20/2010
Retail: $140
Avg. Resale: $2,300
Nike SB Dunk Cheech & Chong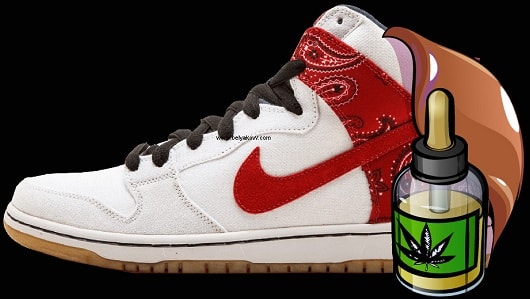 Drop Date: 4/20/2011
Avg. Resale: $1,300
Nike SB Dunk Dog Walker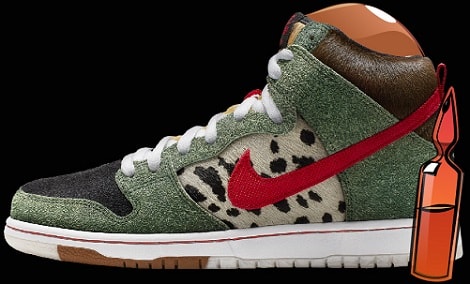 Drop Date: 4/20/2019
Retail: $110
Avg. Resale: $883 (Special Box) – $540 (Regular)
Nike SB Dunk Reverse Skunk
Drop Date: 4/20/2020
Retail: $170
Avg. Resale: $4,190 (Special Box) – $3,933 (Regular)