Nike Dunk Michigan Dropping Soon: Third Time's the Charm!
2021 is a major wave of Dunks and Nike Dunk Michigan is one of the star drops! It's the third consecutive year this colorway drops. And you know what they say, the third time's the charm! So if you're looking for a pair to rock your April, Dunk Low Michigan is IT. If Wasted Youth's SB Dunks ain't doin' it for ya, maybe this release will! And here's what you should know about it fam.
Nike Dunk Michigan: We Seen You Before?
So, we know Dunk High Michigan was part of the OG "Be True to Your School" pack in the 1980s. But the colorway stayed as fresh as ever in our minds. In 2019, Virgil Abloh finished the year with his personal take on Nike Dunk Michigan low. That pair resells for about $750 today fam!
The second hit was in 2020, a year later, with the Michigans in their full high-top glory! That shit made us nostalgic to the 80s because we loved the OG pair. Although the resale isn't as high as the Off-Whites, we still dig it! You can buy that for around $250 on the resale market.
2021 Continues the Legacy!
Nike Dunk Michigan comes back in 2021 because we just can't get enough, can we? The pair features the same university gold and midnight navy leather upper we're all in love with yo! The white midsole and navy outsole complete the look and we got nothin' bad to say.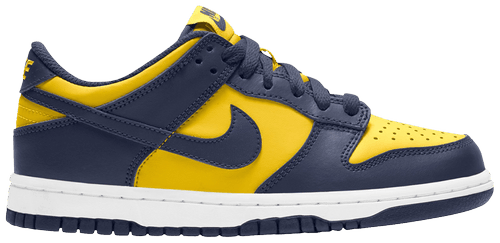 Release Deets for Nike Dunk Michigan
The 2021 Nike Dunk Michigan drops on April 16, 2021, for our usual $100! Somehow, sneakerheads prefer a low-top Dunk, and Nike Dunk Michigan is not any different. It actually resells for $600 on average! So if you're digging this pair, make sure you cop with TSB on drop day. We're sure so many people will be going after it, so buying with a bot is your best shot at a W!
TSB Drops the Best Turds in the House!
We ain't kidding fam, TSB is the most serious shit in the industry. So going into drop day with TSB is a no-brainer! Nike SNKRS is tough, but our shit is tougher. Wherever you are, you've got a chance to cop since the bot supports 50+ regions! And with this consistency, you gotta be loco to pass on this bot. So make sure you've got your TSB key and get yourself familiar with it! And if you can't afford it, TSB's got you fam. You can take part in our giveaway and be our next winner!