Nike Foamposite Volt Blinds Us with All the Swag! [Jan. 2021]
The volt colorway seems to be becoming a favorite at Nike HQ. And just like 'fetch', we're making it happen. Hope you pooped a pair of AJ1 Volt with TSB because it looks like we're going for a complete set! The new Nike Foamposite Volt Pro will turn heads, whether they want to or not. So let's check out the release deets because we're diggin'!
Nike Air Foamposites Was Ahead of Its Time!
Let's get real yo. Nike Air Foamposite is a pretty ugly shoe that we all pretty much love. Why though? Probably because it has a shitload of awesome tech, and it's a pretty sentimental pair! Back in 1997, the first Nike Air Foamposite Royal dropped and Penny Hardaway paraded it. The interesting part is that the kicks were originally made for Scottie Pippen! But the Royal pair made its debut with Hardaway's 1 Cent logo on it. From then on, they became a cultural icon!
Now, let's talk design. Nike Foamposite is a very technologically advanced silhouette, even to this day! The plastic-foam upper is initially a liquid that manufacturers pour into a very expensive mold. That's probably why the kicks were more expensive than your average 1990s kicks. Finally, the Air cushioning is everything we want from a pair of Nike sneakers!
History of Nike Foamposite Volt
Back in 2014, we celebrated Christmas with the release of the pretty poppin' Nike Foamposite Volt. And we haven't seen them since, but 2021 seems to be the sneaker promise land! Nike Foamposite Volt is dropping for the second time and it stays true to the original release. The kicks feature a Volt yellow upper with black detailing on the tongue. We can also clearly see the dot pattern in black on the carbon fiber plate of the midsole.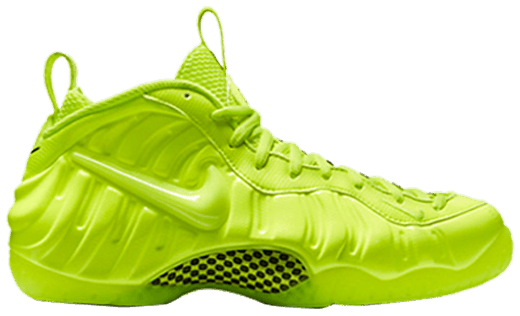 The new Nike Foamposite Volt will drop on January 27, 2021, for $230. If you take an L on the release day, you'll have to buy off the resale market. And if you take a W (or several ones with the best Nike bot), you can flip on the resale market! You can actually find them there now for about $400. That's some pretty good cash if you ask us. So make sure you keep it locked on our blog and check out all the shit we have here. And don't forget to celebrate our 60K followers, we've got a pretty sick giveaway! You might be lucky and win a copy of TSB or cash money!