Nike Chinese New Year Celebrates the Year of the Ox
This year, Nike is taking the Chinese New Year celebration to a new level! From firecrackers to knots, Nike's about to pay some mad respect to the Eastern culture. And since we saw the Street Hawker Dunks, we know that the Swoosh is all serious about it! So let's check out what the Year of the Ox is hiding. Here goes nothing!
Firecrackers on Kicks? Sign Us Up!
So fireworks are the best part of the new year celebration. And that's something the whole world can agree on. And Nike knows where to dive, that's why we'll get a firecracker-looking Nike Dunk. It features the lightning bolts and your usual warning signs. The girls are also in on it with a pretty sick Nike Dunk Disrupt! These kicks will be dropping on January 22, 2021, on SNKRS. And guess what's the best Nike bot in town? Yours truly, TSB! So you get where we're going, don't ya?
Jordan is taking a page out of the CLOT x Nike book with the two kicks we'll talk about. The first one is the Air Jordan 5 which really looks like a low-top version of the Fire Reds. If they came in sail instead of white. But that really doesn't matter because the upper wears away to reveal firecracker designs! The same goes for the futuristic-looking black and red Jordan 35. These will be available starting January 14.
One More Jordan for You!

The Nike Chinese New Year collection won't be complete without a Jordan 1. And 2021 seems the year Jordan Brand focuses its energy on low-top kicks! The new Jordan 1 Low features a red and black upper with golden detailing. And the whole look is complete with a golden… tinsel thingie? Anyway, the sneakers look really good and they'll be dropping on January 31, 2021, for $130.
Nike Chinese New Year Exceeds Expectations!
Already feeling the excitement? Well, the collection isn't done yet. Although we already covered our favorite releases, the Nike Chinese New Year pack includes other silhouettes! First, in our lineup, we've got some really crazy Chuck 70s. The first one features Chinese embossing and red laces. That makes it give an amazing dark feeling! Could the second pair BE any different though? It features a crazy orange upper similar to firecracker packaging along with designs inspired by them too. The Chucks will drop starting January 21, 2021. We'll keep y'all in the loop when we get more info!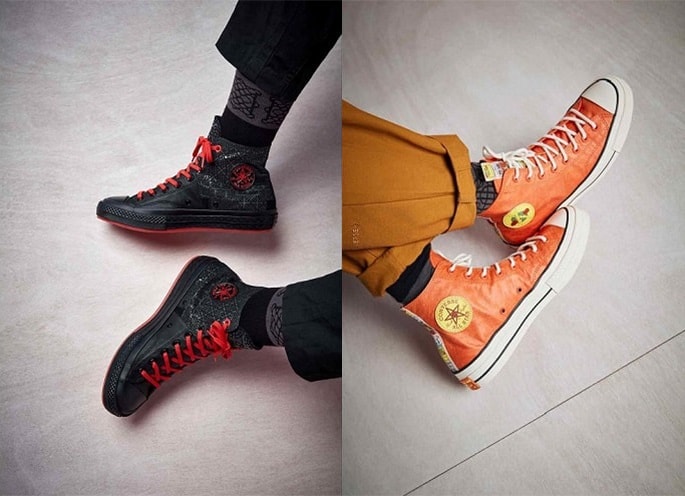 Other silhouettes include cool-looking Blazers, Jordan Delta, Nike SuperRep, Kyrie 7, and Nike Air Max 2090! But it's not only the sneakers that caught our attention. In addition to all the sneakers, we'll get a pretty fly apparel collection from Nike Sportswear. So seriously, the Nike Chinese New Year 2021 brings a lot of swag and tributes a  culture the best way possible! And if you wanna catch any of these drops, you know what bot to run. And if you're still without a copy of TSB, follow us on @The_Shit_Bot, where you could win one! Meanwhile, keep tabs on your favorite sneaker news on our blog. We got the real shit for ya.